Audition Notice for Dracula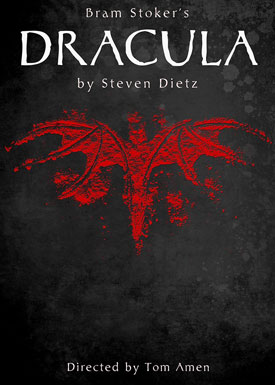 DRACULA
by Steven Dietz
From the Novel by Bram Stoker
Directed by Tom Amen
Audition Dates: June 11, 2018 – Callbacks June 13, 2018
Audition Times: 7:00 PM Both Evenings
Audition Location:
Mainstage Theater
Golden West College
15751 Gothard Street
Huntington Beach, CA 92647
Roles Available: 5-6 Men, 4-5 Women (Flexible Casting)
Roles Open: ALL ROLES OPEN! (Except Van Helsing)
Pay: None
Suggested Audition Preparation: Read the play, which is available from Dramatists Play Service Inc. Reading the original novel would also be helpful.
NOTE: All actors who are cast will be required to enroll in a 2 unit Theater Production course by August 27, 2018 – Details Provided Upon Casting
NOTE: Rehearsals: M-TH, 7-10 PM beginning August 27, 2018
Performance Dates: October 5 – 14, 2018
About the Play:
Bram Stoker's Dracula is as immortal as its title character, and playwright Steven Dietz has done a masterful job of resurrecting the terror and eroticism of the original gothic masterpiece!
An ancient horror is unleashed upon the world when a young English solicitor travels to an isolated castle in Transylvania to execute a real estate transaction with a mysterious nobleman; Count Dracula. Landing on the shores of England to occupy his newly purchased home, Dracula soon begins to prey upon the local population, attempting to satisfy his unquenchable thirst for blood with a host of nubile and willing young necks. Ultimately, there is only one man with a chance of stopping the carnage; an aging doctor with a fervent belief in what his fellow scientists consider mere superstition – a belief in the Undead!
Character Breakdown:
This production contains open roles for 5 Men and 4 Women. This is a very tight, highly theatrical, and fast-paced ensemble show; all roles are excellent, and those cast are in for a very rewarding creative experience!
Mina – Early 20s. Attractive, Intelligent, Practical, Rational, and engaged to Harker
Harker – Mid 20s to Early 30s. Engaged to Mina. Intelligent, Professional, Rational yet Excitable
Lucy – Early 20s. Mina's friend; Attractive, Romantic, Naïve, a bit fickle with men
Seward – Late 20s to Mid 30s. Head of a Lunatic Asylum. Intelligent, Professional, Rational, Cynical, and in love with Lucy
Renfield – Mid 20s to Mid 40s. A Madman. Manic, Sly, Intelligent, Charming, Playful, Volatile, Potentially Violent, and committed to serving Count Dracula
Van Helsing – Mid 50s – Late 60s. THIS ROLE IS PRECAST
Dracula – He should appear to be in his late 30s to early 50s, but, in truth, he is ancient, and possesses that quality. A Count from Transylvania. Powerful, Charismatic, Imposing, Cunning, Provocative, Seductive, and Highly Intelligent.
Ensemble – Mid 20s to Mid 30s. 3-5 Additional Actors (1-2 Men and 2-3 Women) will play: Waiters, Attendants, Maids, Vixens (Wives of Dracula), etc.
PLEASE NOTE: The director is also looking for highly committed crew-members who want to be a part of creating some very exciting special effects, and dark and bloody theatrical magic! If you are interested in joining the production team as a part of the backstage crew, please attend the audition callback on June 13th at 7:00 PM sharp, and we will sign you up!
Further questions regarding this audition should be directed to Tom Amen at tamen@gwc.cccd.edu or 714-892-7711, Ext. 55237. Please note that Mr. Amen is currently on a travel and research sabbatical, and may not be able to respond to you promptly. Please be patient – Mr. Amen will get back to you no later than June 1st.