Award-winning Golden West College Theater Arts Department announces their 2023-2024 season of plays and musicals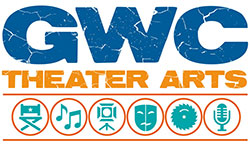 The Golden West College Theater Arts department 2023-2024 theater season promises to be one of its most exciting seasons to date, offering an excellent lineup of productions featuring a talented and diverse group of authors, performers, directors, and designers.
This outstanding collection of plays and musicals will be presented live in the 326-seat Mainstage Theater on the GWC campus beginning in October 2023.
Tickets to the 2023-2024 season are available at www.gwctickets.com or through the box office at 714-895-8150.
Mainstage Theater
2023
THE EXORCIST
Written by John Pielmeier
Based on the novel by William Peter Blatty
Directed by Tom Amen
October 6 – 15, 2023
Auditions: Tuesday May 30 & Wednesday May 31, 2023
More than 50 years after its original publication, William Peter Blatty's The Exorcist remains one of the most terrifying, shocking, and controversial novels ever written! Inspired by a true story of demonic possession, this battle between good and evil, between faith and doubt, comes to life in this chilling and provocative new stage adaptation by acclaimed playwright, John Pielmeier!
Simply put, The Exorcist is one of the scariest tales ever told!
NOTE: This production contains adult language and situations and is intended for mature audiences.
---
Agatha Christie's MURDER on the ORIENT EXPRESS
Adapted for the stage by Ken Ludwig
Directed by Martie Ramm
November 10 – 19, 2023
Auditions: Wednesday September 13 & Thursday September 14, 2023
When the estate of the celebrated writer Agatha Christie approached famed playwright Ken Ludwig to adapt Dame Agatha's most enduring novel and put it on stage, he agreed with alacrity – just as quickly as it takes Hercule Poirot to solve the most thrilling case of his entire career.
Just after midnight, a snowdrift stops the famed Orient Express in its tracks. By morning, one passenger is dead. Isolated and with a killer in their midst, the passengers rely on the celebrated Belgian private detective Hercule Poirot to identify the murderer. Poirot must deploy his 'little grey cells' on the most difficult case of his career and one that will force him to question his deepest beliefs. With a train full of remarkable suspects and an alibi for each one, it's the perfect mystery for detective Hercule Poirot.
---
2024
PSYCHO BEACH PARTY
By Charles Busch
Directed by Tom Amen
March 8 – 17, 2024
Auditions: Tuesday November 28 & Wednesday November 29, 2023
By all appearances, Chicklet is a perky, spunky teenaged girl who wants nothing more out of life than to be accepted as an equal by the Malibu surf crowd of 1962. But Chicklet hides a dark secret – she suffers from a rare multiple personality disorder that triggers her to transform into her various other selves at the mere mention of the color red! From a radio talk-show therapist to a preening male model, to an angry supermarket checkout girl, to a deviant dominatrix hellbent on conquering the world, Chicklet Forrest is a force to be reckoned with!
A manic mix of 1950's Hitchcockian thriller, cheesy 1960's beach movie, and Mommie Dearest, Psycho Beach Party is fiendishly funny fun! Catch the wild wacky wave of laughter!
NOTE: This production contains adult language and situations and is intended for mature audiences.
---
A LITTLE NIGHT MUSIC
Music and Lyrics by Stephen Sondheim
Book by Hugh Wheeler
Directed by Martie Ramm
April 26 – May 5, 2024
Auditions: Wednesday February 21 & Thursday 22, 2024
Inspired by the 1955 Ingmar Bergman film Smiles of a Summer Night, Stephen Sondheim's A Little Night Music explores the tangled web of affairs centered around actress, Desirée Armfeldt and the men who love her. Passions are rekindled, jealousy flourishes and suspicion is everywhere. When all agree to join Desirée and her family for a weekend in the country, infinite possibilities of bittersweet humor, new romances and second chances bring endless surprises. Winner of six Tony awards including Best Musical, and featuring a beautiful, lush musical score showcasing Sondheim's haunting Send in the Clowns, A Little Night Music is a story of love, nostalgia, regret, and desire — all taking place on a warm summer's night.