Award-winning GWC Theater Arts Department announces their 2022-2023 Season of Plays & Musicals
The Golden West College Theater Arts department 2022-2023 theater season promises to be one of its most exciting seasons to date, offering an excellent lineup of productions featuring a talented and diverse group of authors, performers, directors, and designers.
This outstanding collection of plays and musicals will be presented live in the 326-seat Mainstage Theater on the GWC campus beginning in October 2022.
Tickets to the 2022-2023 season season are available at www.gwctickets.com or through the box office at 714-895-8150.
Mainstage Theater
2022
By Martin McDonagh
Directed by Tom Amen
October 7 – 16, 2022
From the undisputed master of dark comedy comes this electrifying tale of a writer in a fictional totalitarian state who is subjected to a ruthless interrogation when a number of his stories bear a striking resemblance to a series of grisly child murders. A hypnotic blend of savagery, suspense, macabre fairytale, and the blackest of gallows humor, Martin McDonagh's play is a powerful, potent, and provocative tour de force that will haunt audiences long after the lights have faded to black!
This production contains graphic language and situations and is intended for mature audiences. No one under 18 will be admitted.
---
THE DROWSY CHAPERONE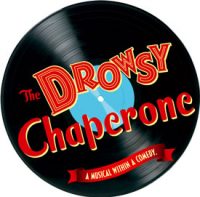 Music and Lyrics by Lisa Lambert and Greg Morrison
Book by Bob Martin and Don McKellar
Directed and choreographed by Martie Ramm
November 11 – 20, 2022
With the houselights down, a man in a chair appears on stage and puts on his favorite record: the cast recording of a fictitious 1928 musical The Drowsy Chaperone. Mix in two lovers on the eve of their wedding, a bumbling best man, a desperate theatre producer, a not-so-bright hostess, two gangsters posing as pastry chefs, a misguided Don Juan, and an intoxicated chaperone, and you have the ingredients for an evening of madcap delight. Winner of five Tony Awards, including Best Book and Best Original Score, The Drowsy Chaperone is a loving send-up of the Jazz Age musical, featuring one show-stopping song and dance number after another!
---
2023
INVENTING VAN GOGH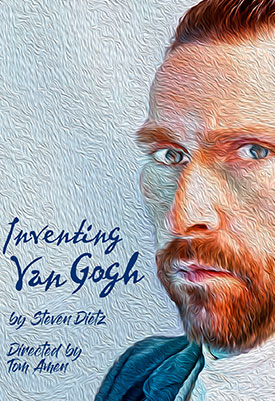 By Steven Dietz
Directed by Tom Amen
March 10 – 19, 2023
A haunting and expressionistic mystery about the creation of art itself, Inventing Van Gogh is the story of the legendary artist's final self-portrait – an elusive masterpiece that has managed to escape the clutches of contemporary art dealers. Until now!
Whether apocryphal or authentic, the search for the fabled painting propels this story of a young artist who is hired to forge a Van Gogh original, and, in doing so, comes face to face with Van Gogh himself!
A riveting and hallucinatory journey into a tortured world of passion, obsession, and greed, Inventing Van Gogh blurs the line between fact and fantasy, truth and myth.
---
A MIDSUMMER NIGHT'S DREAM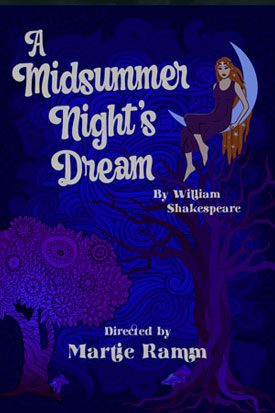 Music and Lyrics by Lin-Manuel Miranda
By William Shakespeare
Directed by Martie Ramm
April 28 – May 7, 2023
Love happens in the blink of an eye, particularly if the eye has been charmed by fairies.
On a Midsummer's night, four young lovers find themselves wrapped in the dream-like arms of an enchanted forest where sprites lurk and fairies rule. Distinguishing imagination from reality and dream from memory becomes impossible. The course of true love is anything but smooth, and games of fantasy and love ensue in Shakespeare's most beguiling comedy. After a night of magical thinking, all's well that ends well.
---
Special Performances:
ON THE EXHALE featuring Amanda Zarr
By Martin Zimmerman
February 3 -4, 2023
Directed by Tom Amen
BARE BONES BLACK BOX FESTIVAL
March 3 – 4, 2023
Stage West Theater at GWC