Cast Announced for The Best Little Whorehouse in Texas at GWC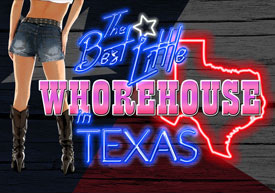 The Golden West College Theater Arts department and director/choreographer Martie Ramm have assembled a multi-talented cast to star in the upcoming production of The Best Little Whorehouse in Texas.
Performance dates are November 8 – 17 in the Golden West College Mainstage Theater. Tickets are on sale now through the GWC Theater Arts department website at www.gwctheater.com.
Starring in this rockin' musical are Megan Cherry as Mona Stangley, Steve De Forest as Sheriff Ed Earl Dodd, John Wilson as Melvin P. Thorpe, Jay Harbison as The Governor, Maggie Underwood as Amber, Kirstin White as Shy and Imani Hayes as Jewel. These outstanding talents lead a cast of 25. Director/choreographer of this production is Martie Ramm. Musical director is Rick Heckman.
Based on a story inspired by the real-life Chicken Ranch in La Grange, Texas, the award-winning The Best Little Whorehouse in Texas is a rollicking, fun-loving, country-style Broadway musical that recounts the good times and the ultimate demise of the Chicken Ranch, known since 1840 as one of the better pleasure palaces in all of Texas. Governors, senators, mayors, and even victorious college football teams frequented this cozy bordello where Miss Mona and her girls were protected by local sheriff Ed Earl Dodd until TV evangelist Melvin P. Thorpe focused his television cameras and his righteous indignation on the institution forcing it to shut its doors forever. The Best Little Whorehouse in Texas is a lively, engaging and genuinely funny American musical comedy. Please note that this production contains adult language and situations, and is intended for mature audiences.
The Thursday November 14 performance will be ASL interpreted. Interested ticket buyers need to contact the box office by phone (714-895-8150) to request locations in the appropriate seating area. For additional information or to purchase tickets, visit the GWC Theater Arts department website at www.gwctheater.com.