Categories Navigation Menu

Home
»
Assistive Listening Systems Available - Golden West College Performing Arts
Performing Arts Newsletter
Follow us on Facebook
Assistive Listening Systems Available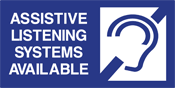 The Mainstage Theater is now equipped with Assistive Listening Systems.
About the GWC Theater
The Theater Arts program at Golden West College offers courses for everyone from patrons of the theater to those that are actively pursuing a career in the performance and technical aspects of theater production. Alumni of the theater arts program can be seen on stage, television, and movie screens worldwide.
GWC Ticket Refunds/Exchanges Policy
REFUNDS/EXCHANGES:
There are no refunds on ticket purchases.
Prior to the performance date, tickets may be exchanged for the same production only, pending availability.
A $3.00 transaction fee will be charged for all ticket exchanges.
YOUNG CHILDREN AND BABIES:
Regardless of age,everyone must have a ticket, sit in a seat, and be able to sit quietly through out the entire performance.We do not permit children under the age of five to attend GoldenWest College performances. No babes in arms or animals allowed. Service animals are welcomed.