CYRANO – AUDITION NOTICE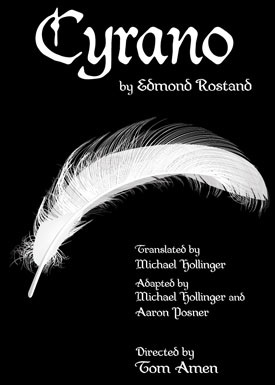 by Edmond Rostand
Translated and Adapted by Michael Hollinger and Aaron Posner
Directed by Tom Amen
Audition Dates: December 4th, 2019 (with Invited Callback TBA)
Audition Time: 7:00 PM
Audition Location: STAGE WEST THEATER
Golden West College
15751 Gothard Street Huntington Beach, CA 92647
Roles Available: 7-8 Men, 1-2 Women (w/Extensive Doubling
Roles Open: ALL ROLES OPEN!
Pay: None
Suggested Audition Preparation: READ THE PLAY available from Dramatists Play Service Inc.
NOTE: All actors who are cast will be required to enroll in a 2 Unit Theater Production course by January 27th, 2020 – Details Provided Upon Casting
NOTE: Rehearsals: M-TH, 7-10 PM beginning January 27, 2020
Performance Dates: March 6th – March 15th, 2020
About the Play:
Edmund Rostand's timeless tale of chivalry, passion, bravery, and honor is brought to life in this exhilarating and boldly theatrical new American adaptation of the 19th century French masterpiece!
Set during the reign of Louis XIII, Cyrano is the story of a universal hero for the ages; a gallant soldier, dazzling wit, and sensual poet, who nonetheless shies away from pursuing the woman he adores. Roxanne is a beautiful and alluring young lady, and Cyrano is a gallant and virtuous gentleman; one would think they would make a handsome couple. Yet, tragically, a formidable obstacle forever stands between the would-be lovers; Cyrano's enormous nose!
An inspiration to lovers everywhere, word-play, swordplay, jealousy, and loyalty clash in a brilliant shower of sparks in this unabashedly sentimental and beautifully lyrical ballad to the enduring spirit of romance!
Character Breakdown:
This play will be cast with 7-8 Men, and 1-2 Women, who will play a total of 26-28 different characters! Furthermore, some doubled roles may play across gender – this tale is told as if an acting company required all-hands-on-deck to tell it! This is an excellent opportunity for committed actors to stretch their talents – Cyrano a tight ensemble show in which each dynamic character has their moment in the sun!
CYRANO – Male. Late 30s to 40s. Energetic, impulsive, romantic. A wizard with words as well as swords. A warrior-poet.
ROXANNE – Female. 20s to mid-30s. Intelligent, romantic, beautiful, elegant. An impetuous heart and a deep soul. (Doubles as Masked Actress)
CHRISTIAN – Male. Late 20s. Handsome, proud, bold with men but shy with women. Aware of his expressive shortcomings. (Doubles as Masked Actor, Angry Subscriber, and Fighter)
LE BRET – 40s to late 50s. Captain of the Gascony Guard and Cyrano's best friend. Moderate, sympathetic, articulate, but not flashy. Our guide to the play.
DE GUICHE – 40s to early 50s. Aristocratic, enamored of Roxanne. Married to power and prestige. Alternately resents and admires Cyrano. (Doubles as Gambler and Fighter)
RAGUENEAU – Male. Late 30s to 40s. Big-hearted pastry-chef and lover of poetry to the point of obsession. (Doubles as Man, Phillipe, and Fighter)
DE VALVERT – Male. Early 30s. Aristocratic, stylish, smug, vain, an expert swordsman. (Doubles as Etienne, Fighter, and possibly Sister Marthe or Desiree)
LIGNIERE – Male. 30s. A drunken poet…or poetic drunk. Occasionally removes the bottle from his lips long enough to put his foot in his mouth. (Doubles as Citizen, Jean-Pierre, and possibly Sister Marthe)
DESIREE – 40s. Male or Female. Roxanne's old nurse and current chaperone. Watchful over Roxanne's honor. (Doubles as Montfleury, Bellerose, Marcel, and Fighter)
PLEASE NOTE: The director is also looking for highly committed crew-members who want to be a part of creating this beautiful little play. If you are interested in joining the production team as a part of the backstage crew, please attend the first audition on December 4th at 7:00 PM sharp, and we will sign you up!
Further questions regarding this audition should be directed to Tom Amen at tamen@gwc.cccd.edu or 714-892-7711, Ext. 55237