Four GWC actors recognized by the Kennedy Center/American College Theater Festival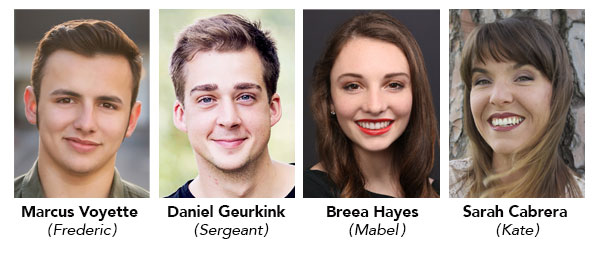 Congratulations to Golden West College performers Marcus Voyette (Frederic), Daniel Geurkink (Sergeant), Breea Hayes (Mabel) and Sarah Cabrera (Kate) for being recognized by the Kennedy Center/American College Theater Festival (ACTF) for their performances in the recent Theater Arts department production of Gilbert & Sullivan's The Pirates of Penzance directed and choreographed by Martie Ramm.
Marcus Voyette and Daniel Geurkink have been nominated for Irene Ryan Acting Scholarships and will be eligible to compete for scholarship awards at the 52nd annual KCACTF Region 8 gathering, which will be held mid-February 2020 at Cal State Fullerton. They can also proudly place the words "Irene Ryan Award" on their acting resumes.
Breea Hayes and Sarah Cabrera will receive Kennedy Center/American College Theater Festival (ACTF) meritorious achievement awards for their performances.
Since 1972, the Irene Ryan Foundation of Encino, California, has awarded Irene Ryan Acting Scholarships to provide recognition, honor, and financial assistance to outstanding student performers wishing to pursue further education. These scholarships are made possible by the generosity of the late Irene Ryan who is best remembered for her portrayal of the lovable and feisty 'Granny Clampett' in The Beverly Hillbillies.
Started in 1969 by Roger L. Stevens, the Kennedy Center's founding chairman, the Kennedy Center American College Theater (KCACTF) is a national theater program involving over 18,000 students from colleges and universities nationwide, which has served as a catalyst in improving the quality of college theater in the United States. The KCACTF has grown into a network of more than 600 academic institutions throughout the country, where theater departments and student artists showcase their work and receive outside assessment by KCACTF respondents.
The goals of the Kennedy Center/American College Theater Festival are to encourage, recognize, and celebrate the finest and most diverse work produced in university and college theater programs; to provide opportunities for participants to develop their theater skills and insight and achieve professionalism; to improve the quality of college and university theater in America; and to encourage colleges and universities to give distinguished productions of new plays, especially those written by students, the classics – revitalized or newly conceived, and experimental works.
Upcoming productions for the Golden West College Theater Arts department include the thriller Playing with Fire – After Frankenstein opening in October 2019, and the lively musical The Best Little Whorehouse in Texas opening in November 2019. For more information on the Golden West College Theater Arts program and productions, visit www.gwctheater.com.