GWC Theater Arts Department Congratulates Maggie Underwood and Scott Keister!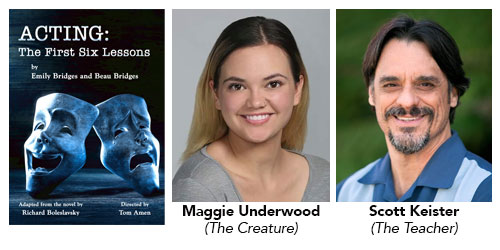 We are proud to announce that one of our actors from ACTING: THE FIRST SIX LESSONS has been nominated for Irene Ryan Acting Scholarship by the Kennedy Center's American College Theater Festival!
Our nominee is GWC Theater Arts Major, Maggie Underwood, who played The Creature! 
This nomination means that Maggie will be eligible to compete for an Irene Ryan scholarship award at the 53rd annual KCACTF Region 8 gathering, which will be held February 9-13, 2021 at Mesa Community College in Mesa, AZ. 
Region 8 of the Kennedy Center American College Theatre Festival is comprised of universities, state colleges, and community colleges in Arizona, Central and Southern California, Hawaii, Southern Nevada, Utah and Guam.
About the Festival:
Each year, KCACTF Region 8 brings students and faculty together in February to see one another's work and to share ideas. In addition to performances, there are a wide range of activities that in the past have included workshops and seminars on such topics as playwriting, auditioning, voice, movement, stage combat, theater for children, scene painting, scenery construction, and so on. There are sessions for everyone, from beginning theater artists to experienced faculty members. In addition to competing in the Irene Ryan Acting Scholarship audition, our actors will have an opportunity to avail themselves of these workshops, symposia, and exhibits that are part of this regional festival.
In addition to Maggie's nomination, GWC veteran actor, Scott Keister, who played The Teacher, was also singled out for Meritorious Achievement for his dedication, professionalism, and for acting as a mentor and positive role model to our GWC theater students.
Once again, congratulate both Maggie and Scotty for their fine performances in ACTING: THE FIRST SIX LESSONS; we are proud of their accomplishments and their collaborative spirit, and delighted to have them as actors in the Theater Arts Department at GWC!