Meet the Cast of INVENTING VAN GOGH!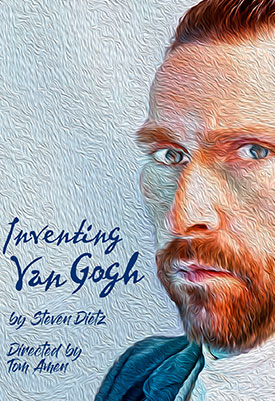 GWC Theater Arts Department is proud to announce the cast for our upcoming production of INVENTING VAN GOGH by Steven Dietz.
The production, directed by Tom Amen, runs March 10-19 in the Mainstage Theater at Golden West College in Huntington Beach.
THE CAST:

Patrick Peterson as Patrick Stone
Scott Keister as Dr. Jonas Miller/Dr. Paul Gachet
Jeremy Krasovic as Rene Bouchard/Paul Gauguin
Amanda Byrd as Hallie Miller/Marguerite Gachet
Luke Brodowski as Vincent Van Gogh
THE PLAY:
A haunting and expressionistic mystery about the creation of art itself, INVENTING VAN GOGH is the story of the legendary artist's final self-portrait – an elusive masterpiece that has managed to escape the clutches of contemporary art dealers. Until now!
Whether apocryphal or authentic, the search for the fabled painting propels this story of a young artist who is hired to forge a Van Gogh original, and, in doing so, comes face to face with Van Gogh himself!
A riveting and hallucinatory journey into a tortured world of passion, obsession, and greed, INVENTING VAN GOGH blurs the line between fact and fantasy, truth and myth!
Tickets and Further Information Available Now at:
http://www.gwctheater.com/inventing-van-gogh-march-10-19-2023/
See you at the theater!