Pirates of Penzance – Audition Notice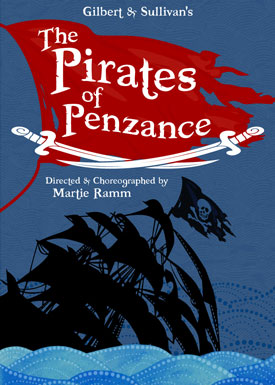 Directed and choreographed by Martie Ramm / Musical Direction by Rick Heckman
Performance Dates: April 26 – May 5, 2019 at Golden West College
Evenings @ 7:30 pm / Matinees @ 2:00 pm
All performances are accompanied by a live orchestra 
Casting
Frederic – A member of the Pirates. He is unaffected and possesses an unself-conscious sex appeal. Youthful, handsome, genuine and innocent. Age: 21. Vocal range top: G4. Vocal range bottom: Bb2. 
Mabel – Daughter of the Major-General. Mabel is a classic beauty. An astute young woman, she is sympathetic in nature. She and Frederic fall in love. Age: 18 to 21. Vocal range top: Db6. Vocal range bottom: Bb3. 
Pirate King – The leader of the pirates. Must be physically fit and not afraid to be physical. A handsome man typically found with an open shirt and wind in his hair. Age: 25 to 35. Vocal range top: F4. Vocal range bottom: A#2. 
Major-General – This role is already cast. 
Ruth – Frederic's lifelong nanny. She is attractive enough for her age. She wants nothing more in life than to see Frederic happy, healthy, and by her side. Age: 30 to 45. Vocal range top: Eb5. Vocal range bottom: G3.
Kate and Edith – Daughters of the Major-General. Quick-witted and rather sassy. They, like their other sisters, are strikingly beautiful. Age: 17 to 21. Vocal range top: G5. Vocal range bottom: Ab3. 
Samuel – The Pirate King's right-hand man. Samuel is clever but easily manipulated and influenced. Vocal range top: F4. Vocal range bottom: Bb2. 
Sergeant – The leader of the police. He is Groucho Marx-esque and uncomfortably clumsy. Though their duty to protect is clear, the Sergeant and his police are more accustomed to fear and hide. Age: flexible. Vocal range top: E4. Vocal range bottom: G2. 
Ensemble – Daughters, Pirates, Policemen. All ages. Must sing well and be able to dance a little. 
Auditions:
Tuesday, February 12 or Wednesday, February 13, 2019 
 7:00 pm: Male and Female singers for all ensemble roles. Be prepared to sing first. 
8:15 pm: Principal performers for the roles of Frederic, Mabel, Ruth and Pirate King only 
Please bring an audition song from any operetta or Broadway musical. You will also be taught a vocal selection from the show. Accompanist will be provided. Bring a picture/resume (if you have one). 
Callbacks will be held on Thursday evening February 14 by appointment. 
Auditions will be held at the former KOCE Studios at Golden West College, 15751 Gothard Street at Center Avenue, Huntington Beach. Enter the campus from the Gothard Street side at the marked Amphitheater entrance. Walk along the road between the Amphitheater and the back of the Mainstage Theater until you reach the KOCE Studios just past the Amphitheater on the left. Parking will be free for these auditions in the Gothard Street student parking lots only. 
Rehearsals begin on Tuesday March 5 and are scheduled for Monday thru Thursday evenings from 7 pm until 10:30 pm. Cast members are called to rehearsals only when needed 
IF CAST IN THIS PRODUCTION, ALL ADULT ACTORS MUST ENROLL IN A 2-UNIT COLLEGE COURSE. 
SOME GUEST ARTISTS EXEMPTIONS ARE AVAILABLE. 
Additional information: http://www.gwctheater.com or mrammengle@gwc.cccd.edu 
All Roles Open! 
(as noted)
Attachment: PIRATES – Audition Notice [PDF]